Small Beginnings
In late 2003, I installed a shifter in my 2003 Cobra and was disappointed with the level of gear noise and vibration being transmitted into the car's cabin I decided to try making a silicone gasket to see if it would block the noise/vibration. I was a bit amazed that pretty much all of the noise and vibration disappeared. I realized that the silicone gasket did a superior job of isolating noise/vibration originating from the transmission.
Over the years I made improvements to the gasket such as switching to a thicker silicone material and adding larger punched holes to make installation easier. I also added a few new applications including the Mustang TR-3650/T-45/T-5 transmission, late model Camaro T-56, Viper T-56 and 2004-2006 GTO T-56.
19 Years And Counting
So here we are 19 years later, still providing shifter gasket kits to the Mustang, Camaro/Firebird. GTO, and Dodge Viper communities.
We're committed to providing a product that does what it's advertised to do – isolate transmission gear noise and vibration from your car's cabin.
We will continue to provide a quality product and positive experience to both new and returning customers.
Product & Customer Testimonials
The December, 2006 issue of Modified Mustangs magazine showcased our new shifter gaskets sets. We were both surprised and honored. As they said in the article, these kits really do "Shush Your Shifter".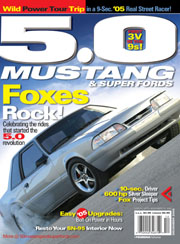 Here is the Modified Mustangs magazine page that showcased my new shifter gasket.
Read What A Few Of My Thousands Of Satisfied Customers Said About My Shifter Gaskets!
Here is what Derrick Smith, an SVTPerformance.com member, had to say about my shifter gasket sets. "Bob, I want to THANK YOU for an amazing product. I had a Pro 5.0 shifter and switched to the MGW. Since swapping shifters, I figure great time to give your double thick gasket a try. I'm not sure if it's your gasket, or the MGW, or a combination of both, but I am absolutely blown away at the results. The gear noise is GONE, which I credit your gasket for. The shifter trim used to make lots noises too and since the MGW (w/race handle) snugs up the exterior boot, the trim racket is also GONE. You cannot hear anything from the shifter/transmission with these modifications. My car is super clean and that was always an embarrassing subject when I give people rides but no worries now. Sorry for being long winded, but I'm seriously shocked at the improvement. Awesome Mod!"
…..More Testimoni

als!



My friend and I installed the gasket set this weekend. He was a skeptic and had me worried as he is a mechanic. Well, we got the set installed and I was pleasantly surprised at how well the gasket worked. Very impressed!
Mark H. on SVTPerformance.com
Your shifter gaskets are probably the most reliable of all the mods I've done to my Cobra since 2003. And I highly recommend you to everyone I know who is interested in a shifter upgrade.
Peter Milo
I just installed mine for a T-56 and they are great. I used to get a lot of noise from the shifter, it is much quieter now. Great product.
OlGreyDog7 (1999 Cobra owner)
CobraBob u rock….Got the Billet shifter in today (GTO T-56) with your gasket set and totally satisfied with both!!! The noise level is cut by about 85-90% over the B&M. I can't thank you enough.
Bowtiez71 (2006 GTO Owner)
Thank you for such a great product, just bought 03 Cobra with a "noisy" shifter, Steeda Tri-ax, I was worried it was the throw-out bearing, who knows? A buddy told me about the gasket set and all my troubles went away for such a small cost!!!! Awesome product, happy to spread the word about them to others. Thanks again!
Mike Kerner (UR BITN in Michigan)
Installed mine with my new MGW shifter yesterday….All I can say is Wow…I had a Pro50 with black RTV before and it made a vibrating clicking sound every time I took off….but now…..it is super quiet…..I would highly recommend these over RTV…..night and day difference. Thanks Bob!
SC Terminator on SVTPerformance.com
Just put mine in last week…..this gasket killed the noise of the tranny whine!!! I have the MGW shifter and with this gasket it is just about dead silent. Awesome product CobraBob!!!! For those that don't have it yet…get it, Get It, GET IT NOW!!!!!

Andre
Buy these things!! They really work!!
Michael
I can't believe how much the trans noise went away!
Smokin03svt
I received mine this past week and installed it this weekend. It definitely quieted down the shifter and was a cinch to install. Thanks for a great gasket for a great price!
Pony200gt – Dallas, TX
Best idea ever. Also no noise at high RPMs. If you don't have these you don't know what you are missing!
ShadowMaker – New Mexico
Thank you very much for the great shifter gaskets. You shipped quick, they worked great- and man they really did quiet that noisy shifter! Thanks again!
Mike F.
Thank you so much for this great product! This is the best product on the market! I have installed many shifters and driven a lot of Mustangs with short throw shifters. I used the gasket from Cobra Bob this time, and it's the best ever, well worth the money and there is no noise from the transmission. It's just like stock! If you are changing a shifter GET this gasket, you will not be sorry!
Joe P – New York
Installed my set yesterday and I can't BELIEVE how big of a difference these gaskets made. My Triax used to chatter like a drunk girlfriend, now its dead silent! Best money I have spent in a LONG time. All aftermarket shifters should come with these. Thanks Bob.(Your gasket set) cut down about 90% of the noise I was getting. The MRT shifter is much quieter! This is an original and innovative product that is definitely well worth the modest cost!! Thanks again! Tony A.
I received the gasket set for my T56 and the item worked great!!! beats making a mess with a tube. Great idea.
Marc
It's amazing…the silicone sealer that I put down a few months ago when I installed the shifter was mostly gone, and what remained was off to the sides. So basically it was doing nothing. Again, Thanks Bob, for your gasket set!
Mike
Also wanted to say it quieted down my tranny a bunch. Can barely hear it now! Thanks for a great product!
Virginia Owner
I just installed mine and what a difference……..I am thinking this is the best mod I have done…..so quiet now.
Maryland Owner
Great service to those Terminator's with Triax/5.0's! You da man!
IronTerp via the Internet
I bought the Tri-Ax shifter about a month ago and it was the noisiest shifter I have ever had. It really aggravated me every time I drove. When I heard about Bob's shifter gasket set I had to try it out. After I had the gasket set installed I couldn't believe how quiet it was. It really made a big difference and a more pleasant drive without the noise aggravation. Shipping was very prompt right after my order was placed. The quality of the product is great! I would recommend Bob's gasket set to anyone who has an aftermarket shifter. You will not be disappointed.
Mark Rapien, '04 Cobra
I received your gasket set yesterday for the Tri-ax. Great product, fast service, and does what it's supposed to, thanks. The least expensive, but one of the best mods I made. Again, thanks for a great product.
Matt in TX
I received my gaskets extremely fast as promised! Thank you very much!!!!
2003 Mach 1 Owner
I installed one of your gaskets on my 03 Cobra last weekend. The previous owner had a Pro50 shifter with NO gasket material at all. It was loud as all get out. I installed an MGW w/their inner shift boot along with your gasket and — holy crap! — it's almost totally silent now. A breeze to install, no goopy mess! Great product!
Regards, Jim C